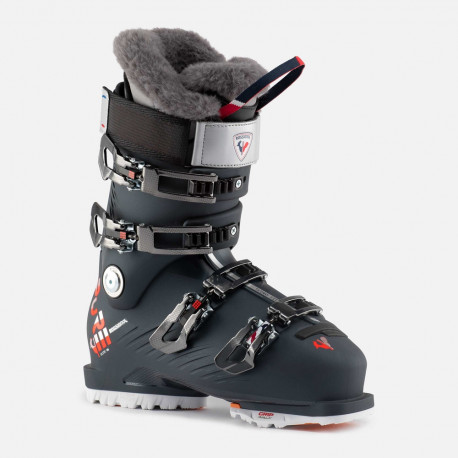 -36%
---
Warning: Last items in stock! In stock

Availability date:
SKI BOOTS PURE ELITE 90 GW METAL STEEL
High-performance skiing meets all-day comfort and a forgiving flex in the women's Rossignol Pure Elite 90 ski boots. Cutting-edge women's-specific shell design is paired with customizable liners for skiers who prefer a precise, low-volume fit. Using generative design, we've engineered the boot shell and cuff for maximum energy transfer and high-speed control through every turn. Adjustable flex and canting let you personalize the feel and response to match your skiing. Merino wool insulation enhances liner warmth, so you can focus on your skiing. Elevate your ski experience with the Pure Elite 90.
Skinny Fit
Women's-specific skinny fit features a 98mm narrow last for a high performance, low-volume fit
Lightweight, Full Power
Data-driven Generative Design minimizes boot wall thickness for the most effective use of material to reduce weight and enhance power transfer
Better Skiability, Better Fit
Dual Core technology provides targeted power transmission and shell wrapping, resulting in livelier rebound, response and control
Optimized Rebound and Response
Asymmetric Dual Core Cuff combines softer plastic to wrap the lower leg with harder plastic where needed for support and power transmission for optimized performance and fit
Adjustable Flex
A simple rear spine adjustment provides an adjustable flex range of +5 to -5 for customized power, performance and comfort
Custom-Fit Comfort
Custom-fit liner features customizable zones for comfort-driven fit with increased heel support and softer padding through the ankle and instep
Natural Warmth, Quick Drying
The liner features Merino wool for warmth, breathability and odor control
Women-Specific Fit
The shorter, tulip shaped cuff eliminates pressure around the shin and calf muscle for increased comfort and performance
Optimized Fit and Warmth
Our Seamless Toe Box eliminates pressure points for optimized out-of-the-box fit and reduces heat loss by 20%
GRIPWALK® Compatible (sold separately)
GRIPWALK® soles feature a rubber tread and rockered toe for a more natural walking motion and increased traction
View more
CHOOSING THE RIGHT SIZE FOR YOUR SHOES
On Easy-gliss, shoe sizes are indicated as follows : 
Mondopoint (French size)

Here is a technique to measure your foot size: 
- Put a sheet of paper on the floor against a wall.
- Stand on the sheet so that your back is flat against a wall, with your heels pressed against the wall.
- Draw a mark in front of the foremost toe of your foot.
- Measure the length between the edge of the paper and the mark. It is recommended to do this for both the left and right foot and to take the longer length into consideration.
The length in mm and = your shoe size in mondopoint(MP)
| | |
| --- | --- |
| French size | Mondopoint |
| 23 | 14.5 |
| 24 | 15 |
| 25 | 15.5 |
| 25.5 | 16 |
| 26 | 16.5 |
| 27 | 17 |
| 28 | 17.5 |
| 28.5 | 18 |
| 29 | 18.5 |
| 30 | 19 |
| 31 | 19.5 |
| 31.5 | 20 |
| 32 | 20.5 |
| 33 | 21 |
| 34 | 21.5 |
| 34.5 | 22 |
| 35 | 22.5 |
| 36 | 23 |
| 37 | 23.5 |
| 37.5 | 24 |
| 38 | 24.5 |
| 39 | 25 |
| 40 | 25.5 |
| 40.5 | 26 |
| 41 | 26.5 |
| 42 | 27 |
| 43 | 27.5 |
| 43.5 | 28 |
| 44 | 28.5 |
| 45 | 29 |
| 46 | 29.5 |
| 46.5 | 30 |
| 47 | 30.5 |
| 48 | 31 |
| 49 | 31.5 |
| 50 | 32.5 |
| 50.5 | 33 |
| 51 | 33.5 |
Data sheet
Range Shoe width
98 - 100 mm
Accessories
Product available with different options
Products in the same category
Product available with different options

Product available with different options

Product available with different options

Product available with different options

Product available with different options

Product available with different options

Product available with different options

Product available with different options

Product available with different options

Product available with different options

Product available with different options

Product available with different options

Product available with different options

Product available with different options

Product available with different options

Product available with different options

Product available with different options

Product available with different options

Product available with different options

Product available with different options