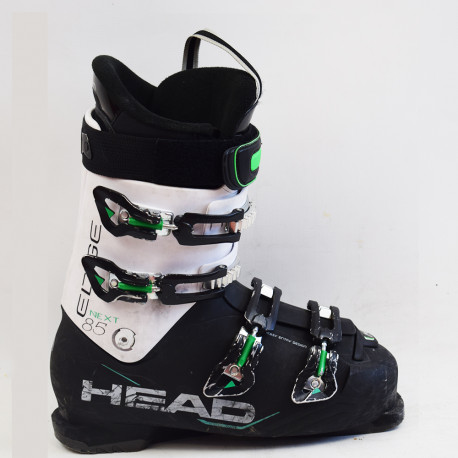 ---
Warning: Last items in stock! In stock

Availability date:
All second-hand shoes offered in our shop have been checked by a professional. The inner shoe has been cleaned and disinfected. The shoes have scratches from use
SKI BOOTS NEXT EDGE 85
They offer comfort and precision at an intermediate level.
A very popular shoe on the track.
The shoe features a HeatFit liner for perfect fit and energy transfer, the liner is constructed with tri-injection.
Dynamic chassis for easy on/off, support and responsiveness.
The 4 aluminium buckles offer a perfect fit.
Products in the same category
All the second-hand boots offered in our shop have been checked by a professional. The inner shoe has been cleaned and disinfected. The boots have scratches from use

All second-hand shoes offered in our shop have been checked by a professional. The inner shoe has been cleaned and disinfected. The shoes have scratches from use

All second-hand shoes offered in our shop have been checked by a professional. The inner shoe has been cleaned and disinfected. The shoes have scratches from use

Product available with different options

All second-hand shoes offered in our shop have been checked by a professional. The inner shoe has been cleaned and disinfected. The shoes have scratches from use

Product available with different options

All second-hand shoes offered in our shop have been checked by a professional. The inner shoe has been cleaned and disinfected. The shoes have scratches from use

Product available with different options

All second-hand shoes offered in our shop have been checked by a professional. The inner shoe has been cleaned and disinfected. The shoes have scratches from use

Product available with different options

All second-hand shoes offered in our shop have been checked by a professional. The inner shoe has been cleaned and disinfected. The shoes have scratches from use

All second-hand shoes offered in our shop have been checked by a professional. The inner shoe has been cleaned and disinfected. The shoes have scratches from use

Product available with different options

All second-hand shoes offered in our shop have been checked by a professional. The inner shoe has been cleaned and disinfected. The shoes have scratches from use

All second-hand shoes offered in our shop have been checked by a professional. The inner shoe has been cleaned and disinfected. The shoes have scratches from use

All second-hand shoes offered in our shop have been checked by a professional. The inner shoe has been cleaned and disinfected. The shoes have scratches from use

All second-hand shoes offered in our shop have been checked by a professional. The inner shoe has been cleaned and disinfected. The shoes have scratches from use

Product available with different options

All second-hand shoes offered in our shop have been checked by a professional. The inner shoe has been cleaned and disinfected. The shoes have scratches from use

Product available with different options

All second-hand shoes offered in our shop have been checked by a professional. The inner shoe has been cleaned and disinfected. The shoes have scratches from use

All the second-hand boots offered in our shop have been checked by a professional. The inner shoe has been cleaned and disinfected. The shoes have scratches from use

Product available with different options

All second-hand shoes offered in our shop have been checked by a professional. The inner shoe has been cleaned and disinfected. The shoes have scratches from use

Product available with different options

All the second-hand boots offered in our shop have been checked by a professional. The inner shoe has been cleaned and disinfected. The shoes have scratches from use.

Product available with different options

All second-hand shoes offered in our shop have been checked by a professional. The inner shoe has been cleaned and disinfected. The shoes have scratches from use

Product available with different options

All second-hand shoes offered in our shop have been checked by a professional. The inner shoe has been cleaned and disinfected. The shoes have scratches from use

All second-hand shoes offered in our shop have been checked by a professional. The inner shoe has been cleaned and disinfected. The shoes have scratches from use

Product available with different options

All second-hand shoes offered in our shop have been checked by a professional. The inner shoe has been cleaned and disinfected. The shoes have scratches from use

Product available with different options

All second-hand shoes offered in our shop have been checked by a professional. The inner shoe has been cleaned and disinfected. The shoes have scratches from use

Product available with different options

All second-hand shoes offered in our shop have been checked by a professional. The inner shoe has been cleaned and disinfected. The shoes have scratches from use

Product available with different options

All second-hand shoes offered in our shop have been checked by a professional. The inner shoe has been cleaned and disinfected. The shoes have scratches from use

All second-hand shoes offered in our shop have been checked by a professional. The inner shoe has been cleaned and disinfected. The shoes have scratches from use

Product available with different options

All second-hand shoes offered in our shop have been checked by a professional. The inner shoe has been cleaned and disinfected. The shoes have scratches from use

Product available with different options

All second-hand shoes offered in our shop have been checked by a professional. The inner shoe has been cleaned and disinfected. The shoes have scratches from use

All second-hand shoes offered in our shop have been checked by a professional. The inner shoe has been cleaned and disinfected. The shoes have scratches from use

All second-hand shoes offered in our shop have been checked by a professional. The inner shoe has been cleaned and disinfected. The shoes have scratches from use