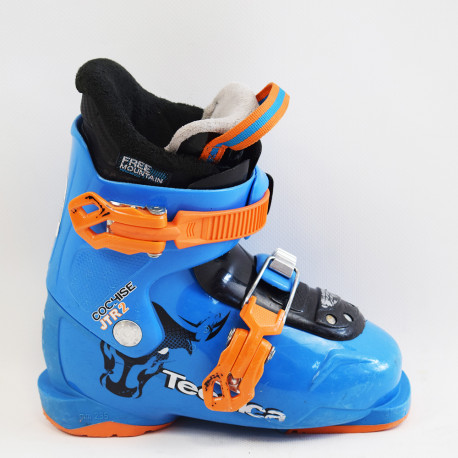 ---
This product is no longer in stock Warning: Last items in stock! In stock

Availability date:
All second-hand shoes offered in our shop have been checked by a professional. The inner shoe has been cleaned and disinfected. The shoes have scratches from use
SKI BOOTS JTR2 COCHISE
Tecnica ski boots ideal to progress... Its main assets are practicality and comfort. From the tightening system to the liner, everything is carefully designed to make putting on and taking off the boots easier. Your child's foot will also be protected from cold, shocks and rubbing. Comfortable, it will allow your little one to learn to ski and to progress rapidly. With these boots, you can be sure that your child will love skiing!
Products in the same category
We recommend
All used skis offered in our shop have been checked. The base has been redone, the edges sharpened and the bindings checked by a professional. The silk-screen printing on the skis may contain scratches from use and sometimes snags.

All second-hand shoes offered in our shop have been checked by a professional. The inner shoe has been cleaned and disinfected. The shoes have scratches from use 

All used skis offered in our shop have been checked. The base has been redone, the edges sharpened and the bindings checked by a professional. The silk-screen printing on the skis may contain scratches from use and sometimes snags.

All used skis offered in our shop have been checked. The base has been redone, the edges sharpened and the bindings checked by a professional. The silk-screen printing on the skis may contain scratches from use and sometimes snags.

All the second-hand skis offered in our shop have been checked. The base has been reworked, the edges sharpened and the bindings checked by a professional. The silk-screen printing on the skis may contain scratches from use and sometimes snags.

All second-hand shoes offered in our shop have been checked by a professional. The inner shoe has been cleaned and disinfected. The shoes have scratches from use 

All second-hand shoes offered in our shop have been checked by a professional. The inner shoe has been cleaned and disinfected. The shoes have scratches from use