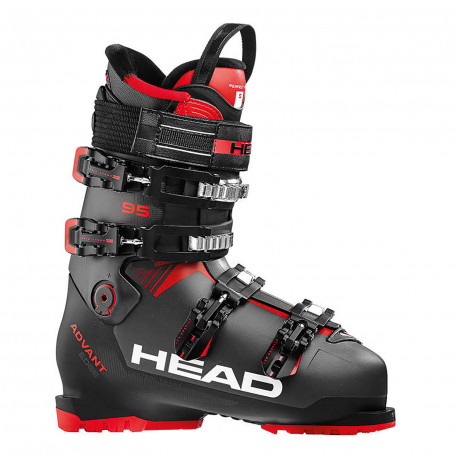 -54%

---
Warning: Last items in stock! In stock

Availability date:
SKI BOOTS ADVANT EDGE 95 ANTHRACITE/BLACK RED
Precise gliding with less effort and fatigue: That's the Advant Edge 95 advantage. The technological core of this boot is our pioneering Advant Edge design, which produces a direct transmission of skier-ski energy through its three main features: Hi-Top Tech®, DuoFlex® and Control Frame®, as well as unprecedented balance and control in cornering, enhanced customization, rear support and energy transmission. The combination creates a powerful and efficient shoe for better glide with less effort. Comfort and performance levels are also amazing with the Advant Edge 95, with nearly every asset customizable to produce the right fit, support and ski response. A faster, easier climb to skiing perfection.
View more
CHOOSING THE RIGHT SIZE FOR YOUR SHOES
On Easy-gliss, shoe sizes are indicated as follows :
Mondopoint (French size)

Here is a technique to measure your foot size:
- Put a sheet of paper on the floor against a wall.
- Stand on the sheet so that your back is flat against a wall, with your heels pressed against the wall.
- Draw a mark in front of the foremost toe of your foot.
- Measure the length between the edge of the paper and the mark. It is recommended to do this for both the left and right foot and to take the longer length into consideration.
The length in mm and = your shoe size in mondopoint(MP)
| | |
| --- | --- |
| French size | Mondopoint |
| 23 | 14.5 |
| 24 | 15 |
| 25 | 15.5 |
| 25.5 | 16 |
| 26 | 16.5 |
| 27 | 17 |
| 28 | 17.5 |
| 28.5 | 18 |
| 29 | 18.5 |
| 30 | 19 |
| 31 | 19.5 |
| 31.5 | 20 |
| 32 | 20.5 |
| 33 | 21 |
| 34 | 21.5 |
| 34.5 | 22 |
| 35 | 22.5 |
| 36 | 23 |
| 37 | 23.5 |
| 37.5 | 24 |
| 38 | 24.5 |
| 39 | 25 |
| 40 | 25.5 |
| 40.5 | 26 |
| 41 | 26.5 |
| 42 | 27 |
| 43 | 27.5 |
| 43.5 | 28 |
| 44 | 28.5 |
| 45 | 29 |
| 46 | 29.5 |
| 46.5 | 30 |
| 47 | 30.5 |
| 48 | 31 |
| 49 | 31.5 |
| 50 | 32.5 |
| 50.5 | 33 |
| 51 | 33.5 |
Data sheet
Range Shoe width
102-104 mm
Products in the same category
Product available with different options

Product available with different options

Product available with different options

Product available with different options

Product available with different options

Product available with different options

Product available with different options

Product available with different options

Product available with different options

Product available with different options

Product available with different options

Product available with different options

Product available with different options

Product available with different options

Product available with different options

Product available with different options