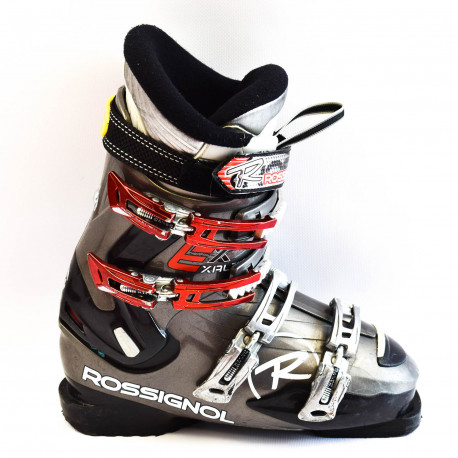 ---
Warning: Last items in stock! In stock

Availability date:
All used skis offered in our shop have been checked. The base has been redone, the edges sharpened and the bindings checked by a professional. The silk-screen printing on the skis may contain scratches from use and sometimes snags.
SKI BOOTS EXALT X RTL
2 contact points - forefoot.
Reinforced footbed.
Bottom of the shell in direct contact with the Sensor soft insert.
In the Sensor construction, the footbed is reinforced in the forefoot to provide 2 points of contact with the Sensor insert.
The insert is made of a softer material for greater tolerance and comfort. The 104 mm internal last offers both support and excellent comfort.
Data sheet
Range Shoe width
104-106 mm
Products in the same category
All second-hand shoes offered in our shop have been checked by a professional. The inner shoe has been cleaned and disinfected. The shoes have scratches from use 

All second-hand shoes offered in our shop have been checked by a professional. The inner shoe has been cleaned and disinfected. The shoes have scratches from use 

Product available with different options

All second-hand shoes offered in our shop have been checked by a professional. The inner shoe has been cleaned and disinfected. The shoes have scratches from use 

Product available with different options

All second-hand shoes offered in our shop have been checked by a professional. The inner shoe has been cleaned and disinfected. The shoes have scratches from use

Product available with different options

All second-hand shoes offered in our shop have been checked by a professional. The inner shoe has been cleaned and disinfected. The shoes have scratches from use 

Product available with different options

All second-hand shoes offered in our shop have been checked by a professional. The inner shoe has been cleaned and disinfected. The shoes have scratches from use

All second-hand shoes offered in our shop have been checked by a professional. The inner shoe has been cleaned and disinfected. The shoes have scratches from use 

Product available with different options

All second-hand shoes offered in our shop have been checked by a professional. The inner shoe has been cleaned and disinfected. The shoes have scratches from use 

All second-hand shoes offered in our shop have been checked by a professional. The inner shoe has been cleaned and disinfected. The shoes have scratches from use   

All second-hand shoes offered in our shop have been checked by a professional. The inner shoe has been cleaned and disinfected. The shoes have scratches from use 

All second-hand shoes offered in our shop have been checked by a professional. The inner shoe has been cleaned and disinfected. The shoes have scratches from use   

Product available with different options

All second-hand shoes offered in our shop have been checked by a professional. The inner shoe has been cleaned and disinfected. The shoes have scratches from use 

Product available with different options

All second-hand shoes offered in our shop have been checked by a professional. The inner shoe has been cleaned and disinfected. The shoes have scratches from use 

All the second-hand boots offered in our shop have been checked by a professional. The inner shoe has been cleaned and disinfected. The shoes have scratches from use

Product available with different options

All second-hand shoes offered in our shop have been checked by a professional. The inner shoe has been cleaned and disinfected. The shoes have scratches from use 

Product available with different options

All the second-hand boots offered in our shop have been checked by a professional. The inner shoe has been cleaned and disinfected. The shoes have scratches from use.  

Product available with different options

All second-hand shoes offered in our shop have been checked by a professional. The inner shoe has been cleaned and disinfected. The shoes have scratches from use 

Product available with different options

All second-hand shoes offered in our shop have been checked by a professional. The inner shoe has been cleaned and disinfected. The shoes have scratches from use 

All second-hand shoes offered in our shop have been checked by a professional. The inner shoe has been cleaned and disinfected. The shoes have scratches from use   

Product available with different options

All second-hand shoes offered in our shop have been checked by a professional. The inner shoe has been cleaned and disinfected. The shoes have scratches from use 

Product available with different options

All second-hand shoes offered in our shop have been checked by a professional. The inner shoe has been cleaned and disinfected. The shoes have scratches from use 

Product available with different options

All second-hand shoes offered in our shop have been checked by a professional. The inner shoe has been cleaned and disinfected. The shoes have scratches from use

Product available with different options

All second-hand shoes offered in our shop have been checked by a professional. The inner shoe has been cleaned and disinfected. The shoes have scratches from use   

All second-hand shoes offered in our shop have been checked by a professional. The inner shoe has been cleaned and disinfected. The shoes have scratches from use 

Product available with different options

All second-hand shoes offered in our shop have been checked by a professional. The inner shoe has been cleaned and disinfected. The shoes have scratches from use 

Product available with different options

All second-hand shoes offered in our shop have been checked by a professional. The inner shoe has been cleaned and disinfected. The shoes have scratches from use   

All second-hand shoes offered in our shop have been checked by a professional. The inner shoe has been cleaned and disinfected. The shoes have scratches from use   

All second-hand shoes offered in our shop have been checked by a professional. The inner shoe has been cleaned and disinfected. The shoes have scratches from use   

All second-hand shoes offered in our shop have been checked by a professional. The inner shoe has been cleaned and disinfected. The shoes have scratches from use