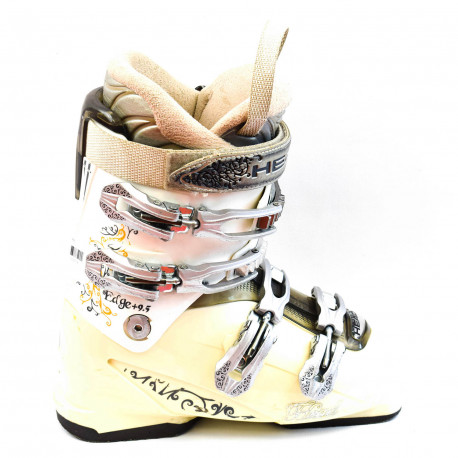 ---
Warning: Last items in stock! In stock

Availability date:
All second-hand shoes offered in our shop have been checked by a professional. The inner shoe has been cleaned and disinfected. The shoes have scratches from use
SKI BOOTS EDGE +9.5 W
Comfort is essential for skiers who fit this width. The Women's Edge +9.5 is roomy and comfortable, making it the preferred choice for recreational skiers who demand comfort above all else.
Macro Adjustment (Super Macro): The plate in front of the top buckle can be moved for a wide range of adjustment.
25mm Strap: Velcro strap at the top of the boot that acts like an extra buckle, but without the hassle of a buckle. The strap holds the top of the boot together as well as providing more even pressure across the front of the boot when flexing.
Double Canting: Two adjustment screws, one on each side of the ankle.b
View more
Data sheet
Range Shoe width
104-106 mm
Products in the same category
All second-hand shoes offered in our shop have been checked by a professional. The inner shoe has been cleaned and disinfected. The shoes have scratches from use

All second-hand shoes offered in our shop have been checked by a professional. The inner shoe has been cleaned and disinfected. The shoes have scratches from use

Product available with different options

All second-hand shoes offered in our shop have been checked by a professional. The inner shoe has been cleaned and disinfected. The shoes have scratches from use

Product available with different options

All second-hand shoes offered in our shop have been checked by a professional. The inner shoe has been cleaned and disinfected. The shoes have scratches from use

Product available with different options

All second-hand shoes offered in our shop have been checked by a professional. The inner shoe has been cleaned and disinfected. The shoes have scratches from use

Product available with different options

All second-hand shoes offered in our shop have been checked by a professional. The inner shoe has been cleaned and disinfected. The shoes have scratches from use

All second-hand shoes offered in our shop have been checked by a professional. The inner shoe has been cleaned and disinfected. The shoes have scratches from use

Product available with different options

All second-hand shoes offered in our shop have been checked by a professional. The inner shoe has been cleaned and disinfected. The shoes have scratches from use

All second-hand shoes offered in our shop have been checked by a professional. The inner shoe has been cleaned and disinfected. The shoes have scratches from use

All second-hand shoes offered in our shop have been checked by a professional. The inner shoe has been cleaned and disinfected. The shoes have scratches from use

All second-hand shoes offered in our shop have been checked by a professional. The inner shoe has been cleaned and disinfected. The shoes have scratches from use

Product available with different options

All second-hand shoes offered in our shop have been checked by a professional. The inner shoe has been cleaned and disinfected. The shoes have scratches from use

Product available with different options

All second-hand shoes offered in our shop have been checked by a professional. The inner shoe has been cleaned and disinfected. The shoes have scratches from use

All the second-hand boots offered in our shop have been checked by a professional. The inner shoe has been cleaned and disinfected. The shoes have scratches from use

Product available with different options

All second-hand shoes offered in our shop have been checked by a professional. The inner shoe has been cleaned and disinfected. The shoes have scratches from use

Product available with different options

All the second-hand boots offered in our shop have been checked by a professional. The inner shoe has been cleaned and disinfected. The shoes have scratches from use.

Product available with different options

All second-hand shoes offered in our shop have been checked by a professional. The inner shoe has been cleaned and disinfected. The shoes have scratches from use

Product available with different options

All second-hand shoes offered in our shop have been checked by a professional. The inner shoe has been cleaned and disinfected. The shoes have scratches from use

All second-hand shoes offered in our shop have been checked by a professional. The inner shoe has been cleaned and disinfected. The shoes have scratches from use

Product available with different options

All second-hand shoes offered in our shop have been checked by a professional. The inner shoe has been cleaned and disinfected. The shoes have scratches from use

Product available with different options

All second-hand shoes offered in our shop have been checked by a professional. The inner shoe has been cleaned and disinfected. The shoes have scratches from use

Product available with different options

All second-hand shoes offered in our shop have been checked by a professional. The inner shoe has been cleaned and disinfected. The shoes have scratches from use

Product available with different options

All second-hand shoes offered in our shop have been checked by a professional. The inner shoe has been cleaned and disinfected. The shoes have scratches from use

All second-hand shoes offered in our shop have been checked by a professional. The inner shoe has been cleaned and disinfected. The shoes have scratches from use

Product available with different options

All second-hand shoes offered in our shop have been checked by a professional. The inner shoe has been cleaned and disinfected. The shoes have scratches from use

Product available with different options

All second-hand shoes offered in our shop have been checked by a professional. The inner shoe has been cleaned and disinfected. The shoes have scratches from use

All second-hand shoes offered in our shop have been checked by a professional. The inner shoe has been cleaned and disinfected. The shoes have scratches from use

All second-hand shoes offered in our shop have been checked by a professional. The inner shoe has been cleaned and disinfected. The shoes have scratches from use

All second-hand shoes offered in our shop have been checked by a professional. The inner shoe has been cleaned and disinfected. The shoes have scratches from use