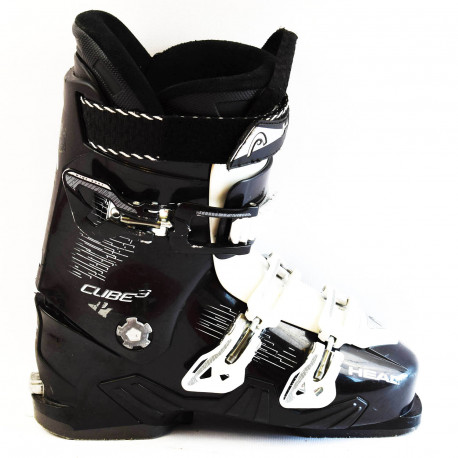 ---
Warning: Last items in stock! In stock

Availability date:
All second-hand shoes offered in our shop have been checked by a professional. The inner shoe has been cleaned and disinfected. The shoes have scratches from use
SKI BOOTS CUBE 3.8
The HEAD CUBE 3 8 ski boot is a new ski boot concept, designed specifically for men, for even more comfort and ease of use.
The AutoSkiWalk system allows you to switch automatically between walking and skiing positions without having to worry about it.
The Soft Walk heel provides a good grip.
This boot has been designed to provide maximum comfort and ease of use for beginners to intermediate skiers.
It is easily adapted to large calves.
Data sheet
Range Shoe width
102-104 mm
Products in the same category
All the second-hand boots offered in our shop have been checked by a professional. The inner shoe has been cleaned and disinfected. The boots have scratches from use

All second-hand shoes offered in our shop have been checked by a professional. The inner shoe has been cleaned and disinfected. The shoes have scratches from use

All second-hand shoes offered in our shop have been checked by a professional. The inner shoe has been cleaned and disinfected. The shoes have scratches from use

Product available with different options

All second-hand shoes offered in our shop have been checked by a professional. The inner shoe has been cleaned and disinfected. The shoes have scratches from use

Product available with different options

All second-hand shoes offered in our shop have been checked by a professional. The inner shoe has been cleaned and disinfected. The shoes have scratches from use

Product available with different options

All second-hand shoes offered in our shop have been checked by a professional. The inner shoe has been cleaned and disinfected. The shoes have scratches from use

All second-hand shoes offered in our shop have been checked by a professional. The inner shoe has been cleaned and disinfected. The shoes have scratches from use

Product available with different options

All second-hand shoes offered in our shop have been checked by a professional. The inner shoe has been cleaned and disinfected. The shoes have scratches from use

All second-hand shoes offered in our shop have been checked by a professional. The inner shoe has been cleaned and disinfected. The shoes have scratches from use

All second-hand shoes offered in our shop have been checked by a professional. The inner shoe has been cleaned and disinfected. The shoes have scratches from use

All second-hand shoes offered in our shop have been checked by a professional. The inner shoe has been cleaned and disinfected. The shoes have scratches from use

Product available with different options

All second-hand shoes offered in our shop have been checked by a professional. The inner shoe has been cleaned and disinfected. The shoes have scratches from use

Product available with different options

All second-hand shoes offered in our shop have been checked by a professional. The inner shoe has been cleaned and disinfected. The shoes have scratches from use

All the second-hand boots offered in our shop have been checked by a professional. The inner shoe has been cleaned and disinfected. The shoes have scratches from use

Product available with different options

All second-hand shoes offered in our shop have been checked by a professional. The inner shoe has been cleaned and disinfected. The shoes have scratches from use

Product available with different options

All the second-hand boots offered in our shop have been checked by a professional. The inner shoe has been cleaned and disinfected. The shoes have scratches from use.

Product available with different options

All second-hand shoes offered in our shop have been checked by a professional. The inner shoe has been cleaned and disinfected. The shoes have scratches from use

Product available with different options

All second-hand shoes offered in our shop have been checked by a professional. The inner shoe has been cleaned and disinfected. The shoes have scratches from use

All second-hand shoes offered in our shop have been checked by a professional. The inner shoe has been cleaned and disinfected. The shoes have scratches from use

Product available with different options

All second-hand shoes offered in our shop have been checked by a professional. The inner shoe has been cleaned and disinfected. The shoes have scratches from use

Product available with different options

All second-hand shoes offered in our shop have been checked by a professional. The inner shoe has been cleaned and disinfected. The shoes have scratches from use

Product available with different options

All second-hand shoes offered in our shop have been checked by a professional. The inner shoe has been cleaned and disinfected. The shoes have scratches from use

Product available with different options

All second-hand shoes offered in our shop have been checked by a professional. The inner shoe has been cleaned and disinfected. The shoes have scratches from use

All second-hand shoes offered in our shop have been checked by a professional. The inner shoe has been cleaned and disinfected. The shoes have scratches from use

Product available with different options

All second-hand shoes offered in our shop have been checked by a professional. The inner shoe has been cleaned and disinfected. The shoes have scratches from use

Product available with different options

All second-hand shoes offered in our shop have been checked by a professional. The inner shoe has been cleaned and disinfected. The shoes have scratches from use

All second-hand shoes offered in our shop have been checked by a professional. The inner shoe has been cleaned and disinfected. The shoes have scratches from use

All second-hand shoes offered in our shop have been checked by a professional. The inner shoe has been cleaned and disinfected. The shoes have scratches from use

All second-hand shoes offered in our shop have been checked by a professional. The inner shoe has been cleaned and disinfected. The shoes have scratches from use
We recommend
All second-hand shoes offered in our shop have been checked by a professional. The inner shoe has been cleaned and disinfected. The shoes have scratches from use

All second-hand shoes offered in our shop have been checked by a professional. The inner shoe has been cleaned and disinfected. The shoes have scratches from use