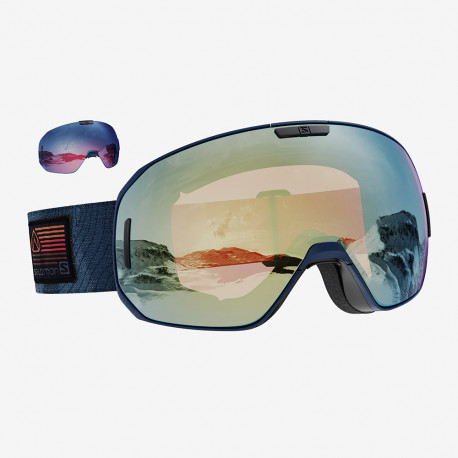 -39%

---
Warning: Last items in stock! In stock

Availability date:
GOGGLE S/MAX ESTATE BLUE SIGMA PHOTOSKY BLUE/SIGMA ICE BLUE
From high-speed arcs to the freedom of playing with gravity, S/MAX SIGMA™ goggles deliver enhanced fit, vision, and instant lens changes to help you blow past your limits. SIGMA™ lenses amplify contrast, enabling the eye to read terrain variations in all light conditions. Includes 2 SIGMA™ lenses for bright sunny or snow and overcast conditions.
Improved visual acuity
SIGMA™ lenses improve definition to help you see terrain details better, especially in snowy or overcast light conditions.
Amplified Field of Vision
The shape of the frame has been adjusted to provide an even greater field of vision at the lower extremities, where you want it most.
Advanced fit and comfort
Anatomically refined fit comes from Salomon's Custom ID fit technology, which allows the soft part of the frame to match each individual's unique features.
View more
Data sheet
Category
Photochromic 1-3
Screen technology
Photochromic
Products in the same category